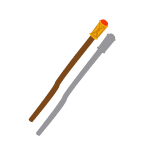 Description
A Ruby is buried on the tip of this staff, which is made of black wood. In some countries, the staff marks the status of its owner. Only people who serve the emperor may carry it.
Items Needed For Synthesis
Synthesis
Stats
Offensive 4
Fire Attributes 50%
Attack Speed 10
Magic Points
x 1
Ad blocker interference detected!
Wikia is a free-to-use site that makes money from advertising. We have a modified experience for viewers using ad blockers

Wikia is not accessible if you've made further modifications. Remove the custom ad blocker rule(s) and the page will load as expected.