Dice Game Stage 12
Comments

0
1,747pages on
this wiki
Dice Game Stage 12 - The Underground KingdomEdit
Accessible through space 42 of Stage 10.
The Stage was unlocked October, 2011 by players donating altogether 4000 Beastly Beards. Many thanks to all of the contributors!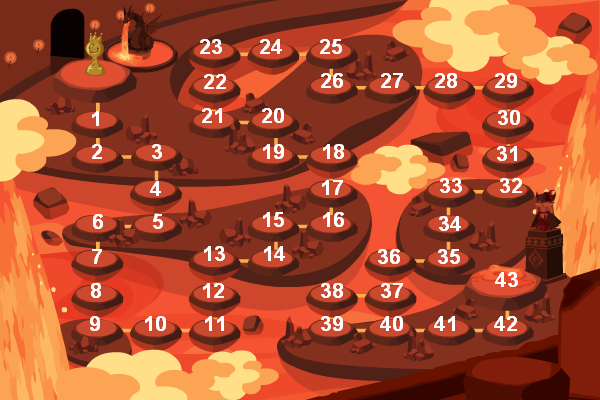 Stage 12 consists of 43 spaces.
Items & Monsters
Edit
Foraged Items
Monsters
Items From Monsters
Story Info
Edit
At the end of Stage 12 lies a broken monument:
"We are scholars from the Altura region. In order that our learnings may serve those in the future, we leave them on stone monuments. This place was already in ruins when we came to study it. All that remain are the ghosts of its old residents, and the golems that continue to stand guard even though this place has already wasted away. However, the reason this city was destroyed doesn't appear to be through natural causes. We believe that war was responsible. That much is evident by examining the weapons of the golems."
The Scholars
​Quests Involving This Stage
Edit
Map Details
Edit
Notes:
Saltpeter is collectable in any Copper/Iron spot.
Ruby is potential in the Iron spots of Space 42.
Space
Monsters
Collectable Items
Space
Monsters
Collectable Items
★
[Start]
11
-
1 Saltpeter
3 Copper
1
-
2 Saltpeter
12
3 Iron Golem (Small)
1 Iron Golem (Medium)
1 Saltpeter
2
-
1 Saltpeter
1 Copper
13
-
3 Copper
3
2 Red Fire Ghost
1 Saltpeter
2 Copper
14
2 Iron Golem (Medium)
1 Copper
4
1 Iron Golem (Small)
2 Saltpeter
15
2 Iron Golem (Small)
1 Iron Golem (Medium)
1 Copper
5
2 Iron Golem (Small)
1 Copper
16
1 Iron Golem (Large)
2 Copper
6
-
2 Copper
17
1 Iron Golem (Medium)
1 Iron Golem (Large)
1 Copper
7
2 Iron Golem (Small)
1 Red Fire Ghost
1 Copper
18
1 Dwarf Ghost
1 Red Fire Ghost
2 Irons
1 Saltpeter
8
1 Iron Golem (Medium)
1 Red Fire Ghost
1 Saltpeter
1 Copper/Iron
19
2 Dwarf Ghost
1 Iron Golem (Medium)
1 Iron
1 Limestone
9
-
1 Saltpeter
1 Copper
20
-
2 Iron
1 Limestone
10
4 Iron Golem (Small)
1 Red Fire Ghost
2 Saltpeter
1 Copper
21
-
2 Iron
2 Limestone
Space
Monsters
Collectable Items
Space
Monsters
Collectable Items
22
2 Iron Golem (Small)
1 Iron Golem (Large)
1 Dwarf Ghost
1 Iron
33
-
2 Limestone
1 Iron
23
1 Iron Golem (Medium)
1 Iron Golem (Large)
2 Dwarf Ghost
1 Iron
34
-
2 Iron
1 Limestone
24
3 Iron Golem (Small)
1 Iron Golem (Medium)
2 Iron
35
-
3 Iron
1 Limestone
25
2 Iron Golem (Medium)
1 Iron Golem (Large)
1 Iron
1 Limestone
36
3 Iron Golem (Small)
2 Iron Golem (Medium)
1 Iron
26
-
1 Iron
2 Limestone
37
2 Iron Golem (Medium)
2 Iron Golem (Large)
2 Iron
27
-
2 Iron
2 Limestone
38
2 Iron Golem (Medium)
2 Dwarf Ghost
1 Iron
28
2 Dwarf Ghost
1 Iron
39
3 Iron Golem (Small)
1 Iron Golem (Medium)
1 Iron Golem (Large)
1 Iron
29
3 Dwarf Ghost
1 Iron
40
1 Iron Golem (Large)
3 Dwarf Ghost
2 Limestone
30
1 Iron Golem (Medium)
2 Dwarf Ghost
1 Iron
41
-
2 Iron
1 Limestone
31
2 Iron Golem (Medium)
2 Dwarf Ghost
1 Iron
42
-
1 Silver/Gold Dice
3 Irons/Ruby (Rare)
32
1 Iron Golem (Large)
2 Dwarf Ghost
1 Limestone
43
Gigantic Golem (Boss)
Boss Drops:
Rusty Gears
Golem Heart (Rare)
Item Chest